1. We offer essential online courses (in video format) in Greek cuisine, pastry, food technology and restaurant management.




2. We selectively organize live seminars-courses.
WITH LOVE from greece
NEAR YOU
We take advantage of the tools that technology provides us to get closer.
Our lessons are filmed on video. So our student, from the moment he acquires our courses, will be able to attend them whenever he wants and can.


YANNIS STANITSAS/executive chef.
DIMITRIS DIMITRIADIS/executive chef..
MICHALIS SARAVAS/pastry chef.
NIKOS GOURZIS/pastry chef.
IOANNA STAVARA/ideas creator/concept manager.
Dr. Zacharias Papanikolaou/ Food Science and Technology Agronomist PhD in Agricultural Economics, A.P.Th.
guest chef

George Stylianoudakis

/executive chef
Only in Skills In Restauranting you will find the two collective online courses of George Stylianoudakis.
coming on June 2013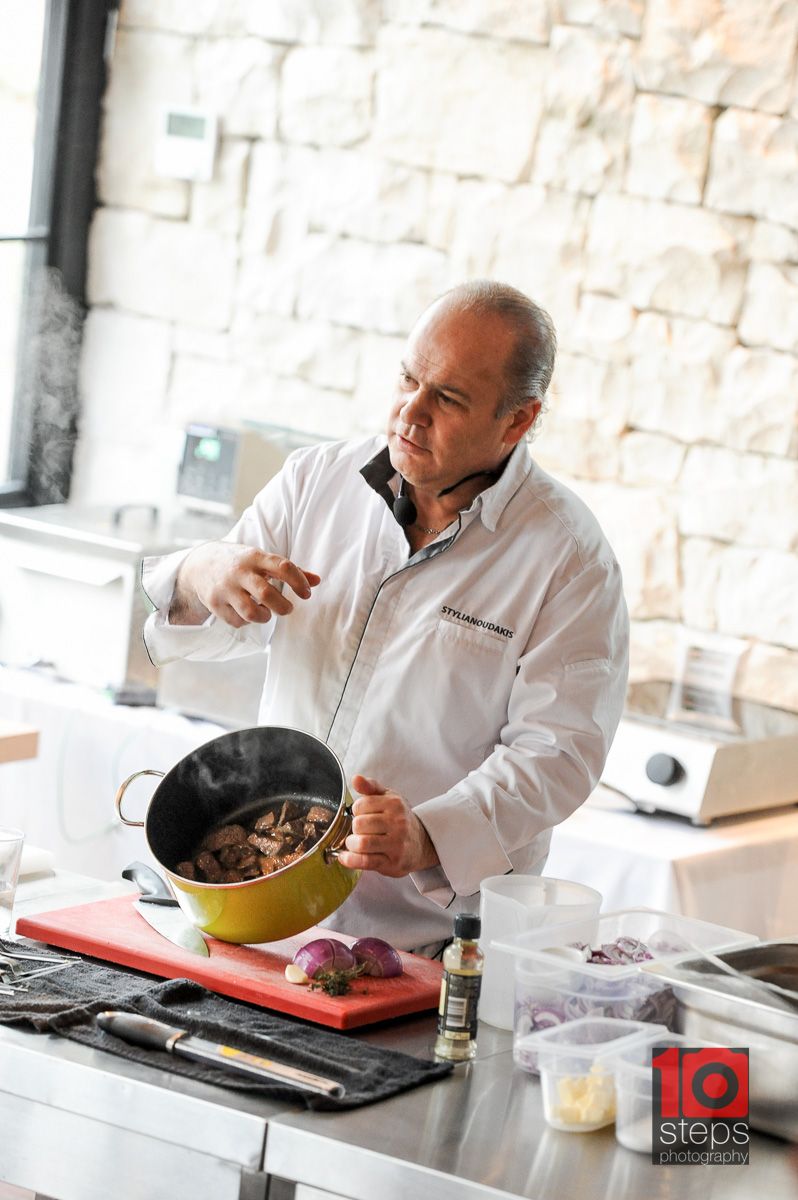 our story.
We are a group of Greek professionals with many years of experience in the field. We believe that Greek cuisine can offer gustatory pleasure to audiences worldwide.
We combined our knowledge, our experiences and our love and created the first independent online school dedicated to Greek cooking, hospitality and Greek products.
our goal.
Our goal is to teach professionals all over the world, Greek traditional, creative and modern cuisine.
greek cuisine
executive chef:
Dimitris Dimitriadis
Our first online course in video format will be on air on 28th of february 2023
Our instructors say:

All our courses that we choose for our students will always be the result of many years of experience and personal effort of each lecturer from our teaching team, to always create innovative ideas that will evolve Greek gastronomy
1. knowledge.
Η γνώση που θα λαμβάνεις από εμάς θα σου δώσει την ελευθερία να πραγματοποιήσεις το προσωπικό σου επαγγελματικό όραμά.
2. Detail.
Οι λεπτομέρειες που θα δεις, θα καταλάβεις και θα αφομιώσεις μαζί μας , θα σε διαφοροποιήσουν από το πλήθος.
3. Technical know-how.
Οι τεχνικές και η τεχνογνωσία που θα σε βοηθήσουμε να κατακτήσεις κοντά μας, θα είναι οι πολύτιμοι βοηθοί σου στην επαγγελματική σου ανέλιξη..
4. Creativity
Κοντά μας θα ξεδιπλώσεις τις ιδέες σου, την φαντασία σου και την δημιουργικότητά σου.
Why you should trust our concept:
We are active in the field.
At the moment you are reading these lines, all of us are working in Greece or abroad, in the Greek gastronomy. This way we are in direct contact with the developments, requirements, problems, but also the opportunities offered by the global market.
We don't teach.
Our aim is for you to love Greek cuisine and Greek products. And this is not taught but transferred and transmitted.
We want you to really learn
Being in constant action in the field of Greek gastronomy, we want you to really and deeply learn our cuisine, so that you can present it to your audience in the best way.
Practicality.
Our courses are designed to be practically applicable. The application of the material and its usefulness is for us the main issue. So each of our lessons will be a valuable helper for you.
Range.
The strategies, the techniques, the way of thinking and the knowledge you will gain by attending our courses, concern the operation, the administration, the service, the Greek taste and culinary techniques.
Career.
With our courses, you will strengthen your self-confidence and acquire all the tools you will need on your way to a brilliant career in Greek gastronomy. .
YOU OUR MAN & OUR STUDENT
the cook
Gastronomy has no borders, no color like all the arts.
The restaurateur who needs to modernize the way he thinks over Greek gastronomy , works and plans the evolution and development of his business, but also the new restaurateur who wants to start a Greek concept in a succesfull way, are suitable to attend our courses.
The company HENDI tools for chefs provides our presenters with all the necessary professional equipment.



Contact us.
Phone number:
Land line: 0030 2413 013 092
Mobile: 0030 6946 741 295
Σε ευχαριστώ για την επίσκεψη.
Η SKILLS IN RESTAURANTING είναι ακόμη στην αρχή
του μεγάλου της ταξιδιού. Η ενθουσιώδης αποδοχή από εσάς είναι για μένα ένα πολύτιμο δώρο κι έτσι θα σας φροντίζω. Είστε πολύτιμοι.
Ιωάννα Σταβάρα
Concept & Project manager για την tensteps10
Δημιουργός της SKILLS IN RESTAURANTING ONLINE COURSES
Created with